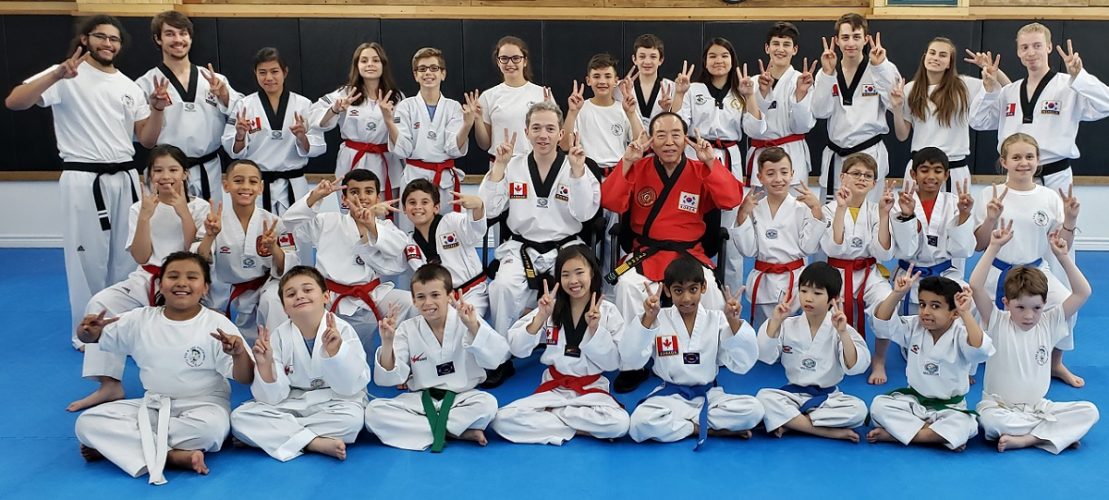 The Tae E. Lee Taekwondo Day Camps and Leadership Camp programs for childrens and teens (5 - 16 year olds) emphasize striving to be your best in three areas of your life: your home, school and Taekwondo. This is achieved through the 5 goals of Taekwondo, which are stressed in our camp program, and include: courtesy, integrity, perseverance, self-control and loyalty.
Camp is the perfect opportunity to enhance your Taekwondo training at the most prestigious Taekwondo School in Canada! We teach your child focus and concentration.
In addition to intensive Taekwondo training and discipline, the camps include exciting games, challenges, movies, awards, and special excursions. The unique blend of hard work and high energy activities brings kids back again, again and again!
Camp Benefits include: improved focus and concentration, confidence, discipline, physical fitness, mental agility, coordination, and improved family relationships.
NO EXPERIENCE NECESSARY, new members are welcome!
All day camps are held at our headquarters at 1300 Carling Ave.
Camp runs from 9:30 am - 3:00 pm (Mon - Fri)
Drop-off from 9:00 - 9:30 am and Pick-up from 3:00 - 4:00 pm are included in camp fees
Early drop-off (8:00 - 9:00 am) is available for an additional fee
Late pick-up (4:00 - 5:30 pm) is available for an additional fee
Session 1: June 29 - July 3 (no camp July 1)
Session 2: July 6 - 10
Session 3: July 13 - 17
Session 4: July 20 - 24
Session 5: July 27 - 31
Session 6: August 4 - 7 (no camp August 3)
Session 7: August 10 - 14
Session 8: August 17 - 21
Session 9: August24 - 28
---
PD DAY Camps 2019-2020
NEW Monday, April 13, 2020 -- EASTER MONDAY CAMP
Friday, April 24, 2020 (Ottawa Carleton District School Board only)
Friday, June 5, 2020
MARCH BREAK CAMP 2020 - CANCELLED
Monday March 16 - Friday March 20, 2020
Register for the entire week or individual days only
EASTER MONDAY CAMP 2020