Mastering Taekwondo — A Korean Martial Art SOLD OUT!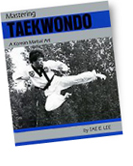 Mastering Taekwondo
is a personal journey into the martial arts. Throughout this journey, the student continually seeks, masters and perfects knowledge. A true master will show you the foundation as well as the path upon which mastery of Taekwondo is built. The instructor will impart just enough knowledge for the student to absorb and integrate into his level of Taekwondo. The master will plant the seed for the student to develop and seek new knowledge. Grandmaster Tae Eun Lee has followed this age-old approach and has selected the most important aspect of Taekwondo in his book,
Mastering Taekwondo.
Essential and Comprehensive Guide to the Mastery of Taekwondo
Over 100 detailed and comprehensive kicking techniques
History and philosophy of Taekwondo
Step by step WTF Poomse — beginner Taegeuk up to Master levels
Sparring strategy
More!
---
Mastering Taekwondo Sparring — The Basics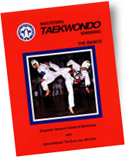 by Brigadier General Robert K. Martineau with Grandmaster Tae E. Lee
The best sparring book available today!
Develop a world class Taekwondo sparring style and techniques
Olympic Taekwondo competition sparring style and techniques
Learn the right drills and techniques to use for attack, defense, and counter attack
Understand how world class competitors prepare and fight
Based on styles of Korean National and Military Teams' top fighters
To get best results, learn how to plan all parts of your training
Right fighting stance for speed and precision
Competition style footwork for fast movement, kicking and punching techniques to score
Over 1,500 hours of research, analysis and writing during four
Over 420 pages with more than 300 photographs
---
Fly with Tae E. Lee

Fly with Tae E. Lee
CD features the vocal Fly with Tae E. Lee song, Tae E. Lee Taekwondo Philosophy, the Student Oath, Korean Terminology, Meanings of the Patterns and finally an instrumental. This CD will give the student a good start for self study into some of the important areas of Taekwondo.
---
Grandmaster Tae E. Lee Comic Book — 1st edition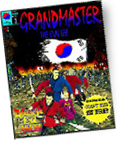 ---
Ebook — Anything/everything you need to know about Canada